SO YOU WANNA GET TO KNOW ME ...
I was born and raised in London, England, but now reside somewhere much warmer and sunnier (thank goodness).
With the help of a pricey education in England (Thanks, Mum and Dad) and succinct writing capabilities beaten into me by a Pulitzer Prize-winning newspaper editor under whom I apprenticed, I became a writer and editor myself, honing and perfecting my skills over the course of a decade in the unforgiving crucible of freelance work.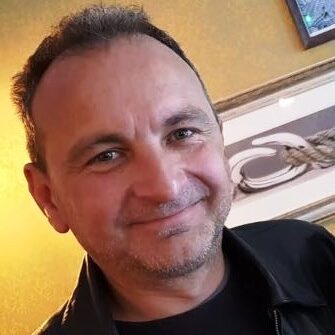 But when my much more hardworking friends expressed incredulity that I made a living, "Just because you can read and write," I took it as a challenge and now, thanks to an introduction to the voice-over business by my good friend Greg Bell (host of the "Radio Classics" channel on Sirius XM), I make my living just because I can talk -- and that REALLY gets them steamed!
Well, of course, it's not quite that easy, but it is fun to let them think so.
For over 10 years now, I have been banging on doors and auditioning my little heart out and, I am relieved to report, the effort has paid off.
In addition to voicing the iconic GEICO GECKO on Pandora, I have performed in the style of many other well-known fictional and real characters for animations, video games, commercials, and corporate videos, such as ...
Some Well-known Characters
J.A.R.V.I.S. (from "Iron Man")
GHOST (from "Call of Duty")
EBENEEZER SCROOGE (from "A Christmas Carol")
SANTA CLAUS (from The North Pole)
JOHN CLEESE (from "Monty Python," "Fawlty Towers" and more)
ALBERT EINSTEIN (from … well, E=MC2 and all that)
and DAVID ATTENBOROUGH (from every wildlife documentary ever, right?)
... and I have created countless original voices, including ...
James Bond-style action hero
I have been featured in the following popular productions:
"Buffy the Vampire Slayer" as RODEN
"Macbeth," "Hamlet," and "Romeo & Juliet" as MULTIPLE SHAKESPEAREAN CHARACTERS
... and as countless LEAD and CO-STARRING characters in lesser-known animations, video games, audio books, and plays.
But I am not just a character!
I have also produced commercial, corporate, educational and training work in my natural voice for hundreds of blue-chip companies, including …
From SERIOUS to SILLY and EVERYTHING in-between
In short, I can deliver whatever style you are looking for.
Whether it's for an animation, a video game, a commercial, a corporate video, training or educational materials, or any other type of project,
"I promise a FAST, FRIENDLY and PROFESSIONAL service EVERY TIME."
And if you don't believe me (And why should you, we've never met?) check out the GLOWING TESTIMONIALS at the bottom of every page on this site.
Oh, and whenever I can, I come out of my dark and lonely sound booth for on-camera roles, including the lead role in a TV sitcom pilot, host of an archeology show pitch, co-starring roles in a full-length feature and an unscripted TV show, plus numerous lead roles in commercials, industrials and training videos.
Phew!
If you got to the end of all this, well done, you!
Want to hear me voice your script? No problem.
Just e-mail it to [email protected] and I will get a demo read back to you lickety-split.
If needed, I can be EXTREMELY QUICK for those urgent jobs, and I am always VERY EASY TO WORK WITH. You'll get no artistic tantrums from me, just what you want, when you want it (or sooner, usually).
I can deliver fully edited and mastered (ready to use) BROADCAST QUALITY audio in any format you like from my PROFESSIONAL HOME STUDIO, usually within minutes for short-form content.
If required, SESSIONS CAN BE DIRECTED by phone or WhatsApp or Skype or Source-Connect Now or ipDTL or ConnectionOpen, etc., or I am always WILLING TO TRAVEL to any studio, anywhere, any time.
Best of all, I provide a SATISFACTION GUARANTEE -- If you don't love my work, you don't pay -- but I have never had to honor it in over a decade!
So how about a job, then?
C'mon. Give me a shot. You won't be disappointed. I promise.